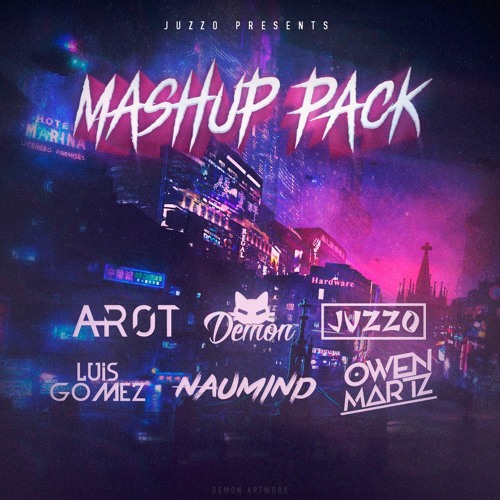 Juzzo and Friends mp3 Mashup Tracks on Pack:
1. DADADADA vs. Earthquake vs. No Bamba vs. Splice (AROT Mashup)
2. QUIX vs. Asteroid Afterparty vs. The Chainsmokers Ft. Daya – FON vs. Oh My God vs. Don't Let Me Down (AROT Mashup)
3. Let's Go vs. Epic (Demon & Luis Gomez Edit)
4. The Drums vs. Survivors vs. Mainstage vs. Satisfied (DEMON Mahsup)
5. SLVR Vs. 2 Static – Stupid Feel That Beat (Juzzo Mashup)
6. Afrojack & David Guetta Ft. Ester Dean Vs. Martin Garrix Vs. Deniz Koyu – Another Poison To The Sun (Juzzo Mashup)
7. ANG & Lemarroy Vs Bassjackers Vs Arno Cost & Norman Doray Vs Major Lazer Vs Kura & Tony Junior – World Quirck Strong Too Kong (JUZZO Mashup)
8. Tujamo & LOTTEN vs. Firebeatz x Tony Junior – One Million vs. Samir's Theme (Luis Gómez Mashup)
9. Crude Intentions vs. Tony Igy & Vicetone x Dr. Phunk – RVN IT UP (Luis Gómez Astrono-Mashup)
10. Blasterjaxx – Children Of Today (Naumind Intro Edit)
11. Avicii vs Matisse & Sadko vs Third Party – SOS Saga Northern (Naumind Mashup)
12. Saint Jhn – Roses (Owen Martz VIP Mixshow)
13. Сява vs Frost & Alex-One & TWISTERZ – Без Повода (Owen Martz VIP Edit)
Download Juzzo & Friends Mashup Pack Vol 1.

Prelisten on mix: